A PlayStation pode ter ficado de fora da E3 2019 mas tem boas notícias para os jogadores, especialmente aqueles que andam a poupar para comprar alguns jogos.
A anual época de saldos Days Of Play da PlayStation já começou e dura até ao dia 17 de junho, dando aos jogadores a oportunidade de se lançarem em novas e velhas aventuras a preços mais reduzidos.
Dos clássicos aos jogos mais recentes, dos multi-plataformas aos exclusivos, das aventuras cinemáticas às experiências imersivas em VR, há de tudo e muito mais.
Durante este período, é possível ainda adquirir o Mega Pack Playstation VR por 229,99€, a nova edição limitada da PlayStation 4, com decorações alusivas ao Days of Play 2019, por 299,99€, e jogos físicos e digitais por preços reduzidos, como God of War e Marvel's Spider-Man por 29,99€ ou o mais recente Days Gone por 49,99€.
Os periféricos como os comandos baixam também todos para 39,99€ e os auscultadores Wireless da PlayStation podem ser adquiridos a partir de 59,99€.
Esta também é uma excelente altura para quem quiser fazer a renovação de subscrições com a anuidade do PlayStation Plus a 41,99€ e o PlayStation Now por 69,99€.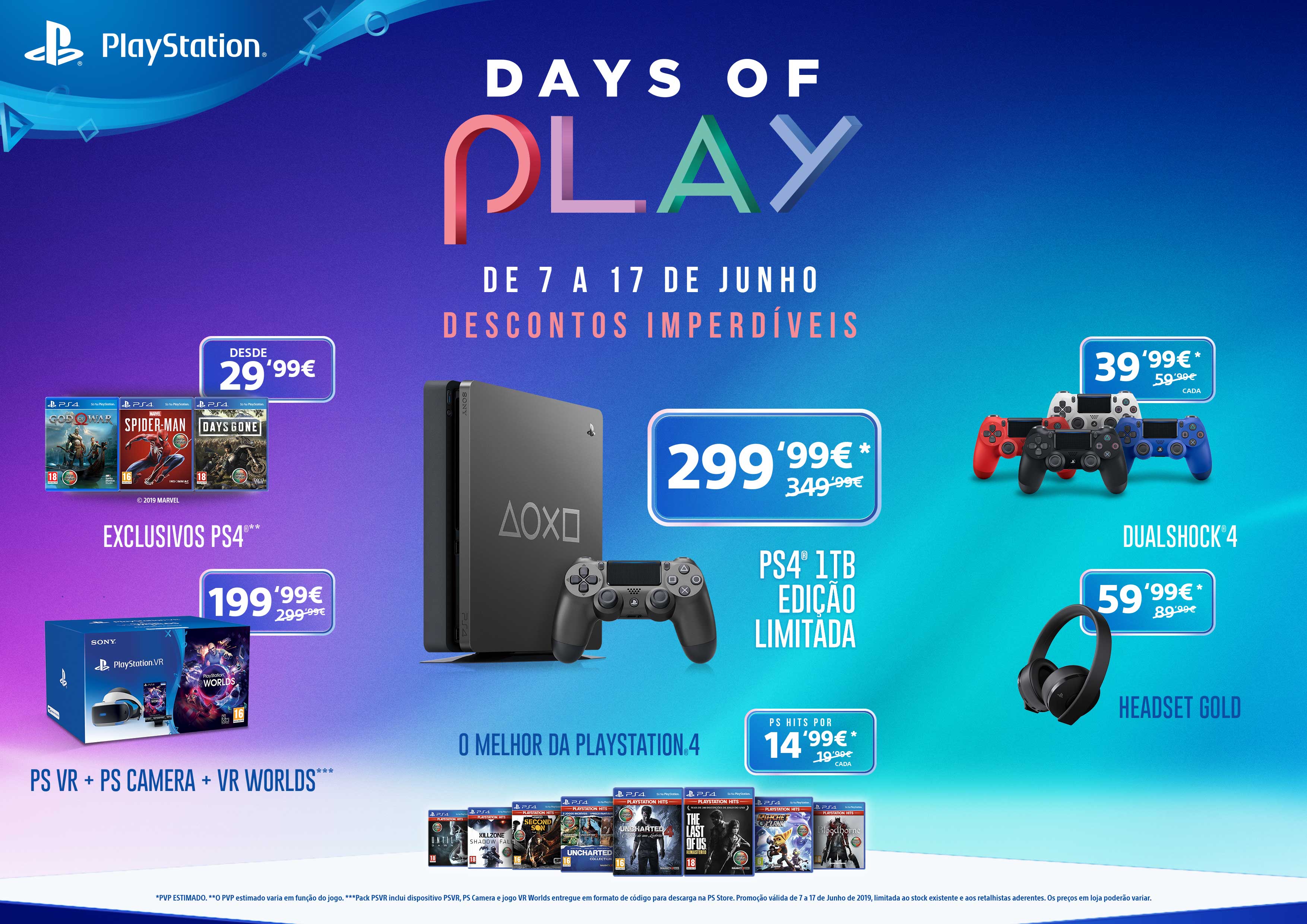 Há mais de uma centena de jogos PlayStation 4 em desconto no Days of Play
Para ficarem a conhecer a lista completa de jogos em desconto durante este período, verifiquem a lista em baixo e comecem a adicionar ao carrinho de compras.